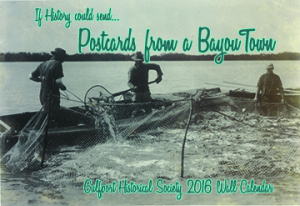 If you missed getting the Gulfport Historical Society's 2015 ultimate guide to all things Gulfport (Some like to call it a "wall calendar") this year, don't let 2016 go by without one of these hanging in your home.
Some people ask, "Why do I need a calendar? I have one on my phone?"
Yes, you do. But our calendar has much more than spaces to write appointments; it includes information about city services, who to call in city government when you have a question or concern, all the special and recurring Gulfport events, and the holiday trash collection schedule. Want to know when Gulfport Neighbors will hold the next Junk in the Trunk? It's in the calendar. What time does SoTangerine! Market on the Greenway end every Saturday? It's in the calendar. What day is GeckoFest? It's in the calendar.
Trust us when we tell you, we've included everything you could possibly want to know about Gulfport.
This year's theme, If History Could Send Postcards From a Bayou Town, explores Gulfport's maritime heritage with a re-imagined look at Gulfport photos. We've taken photos most of you have probably never seen before – some are brand-new to us, too – and we've played with the idea "How would someone have made this a postcard? What would the sender have said?" Throughout the year, we play with the idea of what tourism in Gulfport might have looked like 50 or 100 years ago.
Last year, we sold out of 2015 calendars before the end of 2014. Pre-order your 2016 Calendar and we'll have it ready for you at Born on the Bayou: A Celebration of Gulfport on October 10. They only cost five dollars, and every cent we make off the calendar goes towards historical programming and events.