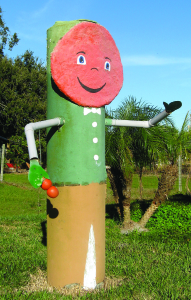 Today we travel just south of the Sunshine Skyway Bridge to a place where you can still drink fresh orange juice. The Citrus Place, lauded as the "final piece of old Florida" by the Herald-Tribune, sells juice squeezed from oranges grown in one of the area's last remaining groves.
Right now, the Tillett family has only frozen juice to sell – with orange season long gone, so, too, goes the fresh nectar. But Ben Tillett, now in his mid-eighties, started keeping the shop open through the summer a few years ago, although he admits profits are lower in the summer.
The Tillett family farmed the area before Ben Tillett quit teaching and devoted more energy to his you-pick citrus business. He'd started the business in the mid-1970s but gave it his full-time attention in 1979, and he's never looked back. He can no longer allow people into the groves to pick the fruit, but he can offer them free juice samples, free orange ice cream samples, and a history lesson when they stop in the shop
Take a 20-minute road trip down to Terra Ceia and help an legacy Florida family keep pumping out local juice – and if Mr. Tillett's working, stop and talk with him about oranges and juice. He loves visitors!
7200 US 19, Terra Ceia • (941) 722-6745 • Cash or check only