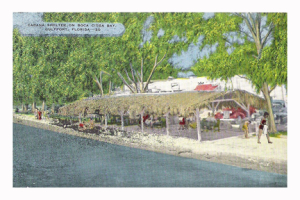 Welcome to our seaside village, where our history is unlike any other town in Florida!
We are a town of Mullet Kings and Gecko Queens; a town founded by blockade runners; a town known for its "fish hard, play hard" history; a town with a history entrenched in our surrounding waterfront. We love art and we love dogs. We have a history of tolerance for the LGBTQ community, and that of a small town that knows what it means to be a community. We are mullet fishermen, artists, and a thriving LGBTQ community. We are all individuals, but we celebrate our town's past and present as one family.
The Gulfport Historical Society, a 501c3, safeguards the town's history and welcomes you to Gulfport, a seaside village unlike no other. Our goals are threefold: We operate the Gulfport History Museum, we work to preserve historic locations, and we offer historical programming. We preserve and celebrate Gulfport culture and history through exhibits and programs that educate and inspire the community and visiting public.
Thank you for visiting us!
SaveSave
SaveSave
SaveSave