Subscribe to the Mullet Wrapper, our monthly newsletter!
*** On Labor Day 2018 (Sept. 3), the Gulfport History Museum had a fire. It destroyed the front porch, ruined our historic Shuffleboard Club sign and our Gulfport Register of Historic Places plaque. It also destroyed our porch furniture and sign. We will be closed until further notice. Our porch parties, haunted walking tours, Saturday walking tours and special events, like Founders Day and Gulfport Under the Stars will continue. Please subscribe to our newsletter for more details. ***
We were lucky, but we need to digitize our collection to protect it. Estimates for doing that run between $25,000 and $30,000. You can donate here to help — and any amount does help.
Here's what damage the fire did: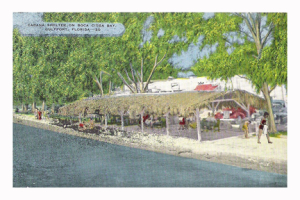 Gulfport enjoys a reputation as a haven for artists, great restaurants, and a boater's paradise. Upon visiting for the first time, people revel in the way it reminds them of the Florida that once lived in every town.
No one understands how much old Florida matters more than the Gulfport Historical Society, the 501c3 that operates the Gulfport History Museum.
At the Gulfport Historical Society, we believe our history is our future, and we want to share both with you. But what, exactly, is our history?
Our small town's history seeps through the pines and palms and permeates through our brick-lined streets. Look around; you can find our history everywhere.
Find it in the descendants of Gulfport's first family, who came here from Key West and carved out a life on the waters surrounding our seaside village.
Catch a fish off Williams Pier, so named for not one but two of our former councilmen.
Walk along the waterfront, where not one but three public casinos have hosted Gulfportians over the past eight decades. The Works Progress Administration built our current Casino in 1935.
Take a stroll to the Torres House at 3102 52nd Street South, where you'll find the oldest house in town, built in 1876.
Let your dog run in Chase Park. The town named Chase Park after Civil War Captain John Chase, who settled here in the 1890s with the intention of promoting our town as "Veterans City."
Amble along Beac
h Boulevard, where you'll find the former home of Gulfport's first mayor (2502 Beach), our oldest business, dating to 1925 (Gulfport Garage, 2731 Beach), the location of Gulfport's first grocer, Cusson's Store (2938 Beach), the location of our first open-air post office (3000 Beach), and the site of our first library (3050 Beach.)
No matter where you go in town, Gulfport's rich history follows you. At the Gulfport History Museum, you can research the history of your home, learn more about the founding families, or browse our extensive collection of archived photographs. We also have rotating exhibits.
The Gulfport Historical Society operates the Museum, and with the generous support of our members and the City of Gulfport, we offer free in-person access to any of our archives and artifacts.
The Society believes in the strength of our past and preserving today for future historians. Throughout the year, we offer programs and events that support our belief that our history matters.
Members enjoy our speakers and porch parties, where we bring in historians from across the state to talk about Florida history and how it relates to Gulfport. Members also receive the Society's regular newsletter, the Historian.
Throughout the year we plan special events that change as do the desires of our membership.
We protect and celebrate our seaside village's past, and preserve today's memories for the Gulfportians of tomorrow. Please join us.
The challenge of history is to recover the past and introduce it to the present. 
– David Thelen
SaveSave
SaveSave
SaveSave